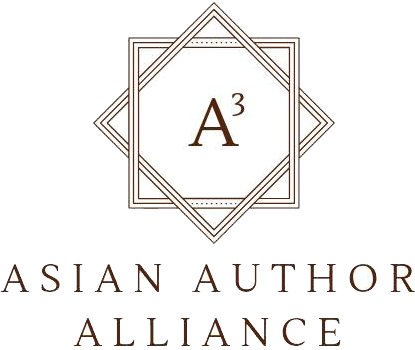 Asian Author Alliance is a group to celebrate Asian Kidlit and the diversity of stories that originate from the Asian Continent. We boost and support books by and for us!
Watch this space as we work on our website.
In the meantime, follow us on Twitter or Instagram!
The Asian Authors Alliance Team
Kat Cho
(Founder, Admin/Moderator)
Kat Cho used to hide books under the bathroom sink and then sneak in there to read after bedtime. Her parents pretended not to know. This helped when she decided to write a dinosaur time-travel novel at the tender age of nine. Sadly, that book was not published. She currently lives and works in NYC and spends her free time trying to figure out what kind of puppy to adopt. Kat's YA contemporary fantasy debut, Wicked Fox, comes out with Putnam Books for Young Readers/Penguin June 25, 2019.
Website  |  Twitter  |  Instagram  |  Youtube
Cindy Pon
(Admin/Moderator)
Cindy Pon is the author of Silver Phoenix (Greenwillow), which was named one of the Top Ten Fantasy and Science Fiction Books for Youth by the American Library Association's Booklist and one of 2009′s best Fantasy, Science Fiction and Horror by VOYA; Serpentine and Sacrifice (Month9Books), which were both Junior Library Guild selections and received starred reviews from School Library Journal and Kirkus, respectively; and WANT (Simon Pulse), also a Junior Library Guild selection, is a near-future thriller set in Taipei. RUSE, the sequel, releases 3/12/19. She is the cofounder of Diversity in YA with Malinda Lo and on the advisory board of We Need Diverse Books. Cindy is also a Chinese brush-painting student of nearly two decades. Learn more about her books and art at www.cindypon.com.
Website  |  Twitter  |  Instagram  |  Facebook  |  Tumblr  |  Goodreads
Karuna Riazi
(Admin/Moderator)
Karuna Riazi is a born and raised New Yorker, with a loving, large extended family and the rather trying experience of being the eldest sibling in her particular clan. Besides holding a BA in English literature from Hofstra University, she is an online diversity advocate, blogger, and publishing intern. Karuna is fond of tea, baking new delectable treats for friends and family to relish, Korean dramas, and writing about tough girls forging their own paths toward their destinies. She is the author of The Gauntlet and The Battle.
Lori M. Lee
(Admin/Moderator)
Lori is the author of the Gates of Thread and Stone series. She has a borderline obsessive fascination with unicorns, is fond of talking in capslock, and loves to write about magic, manipulation, and family. She lives in Wisconsin with her husband, kids, and an excitable shih-tzu.
Website  |  Twitter  |  Facebook  |  Instagram
Nafiza Azad
(Admin/Moderator)
Nafiza Azad is a self-identified island girl. She has hurricanes in her blood and dreams of a time she can exist solely on mangoes and pineapple. Born in Lautoka, Fiji, she currently resides in BC, Canada where she reads too many books, watches too many Kdramas and writes stories about girls taking over the world. Her debut YA fantasy, The Candle and the Flame, will be released by Scholastic in 2019.
Misa Sugiura
(Admin/Moderator)
Misa Sugiura is the author of It's Not Like It's a Secret, which won the Asian Pacific American Literature Award for Young Adult Literature and made YALSA's 2018 Rainbow List and Best Fiction for Young Adults list. Her second book, This Time Will Be Different, comes out June 4, 2019. Born and raised in the Midwest, Misa now lives under a giant oak tree in the Bay Area with her husband, two sons, two cats, and a gray-banded king snake.
Debbi Michiko Florence
(Admin/Moderator)
Debbi Michiko Florence, a third generation Japanese American, is a former classroom teacher and zoo educator. Her debut chapter book series is Jasmine Toguchi (FSG/2017 and 2018). Jasmine Toguchi Mochi Queen was a Junior Library Guild selection, a Bank Street 2018 Best Children's Books of the Year, on the 2018 Amelia Bloomer List, and the 2018 CBCC Choices List (Best of the Year). Debbi is also the author of the early chapter book series, Dorothy and Toto (Picture Window Books/2016) and the upcoming early chapter book series My Furry Foster Family (Picture Window Books/Fall 2019). A native Californian, Debbi now lives in Connecticut with her husband, rescue dog, bunny, and two ducks.
Gail D. Villanueva
(Webmaster, Admin/Moderator)
Gail D. Villanueva is a Filipino author based in the Philippines. She has 23 years of web design and development experience under her belt, and runs a home-based creative agency with her husband in the outskirts of Manila. Gail considers herself a dog and duck whisperer. She loves pineapple pizza, seafood, and chocolate, but not in a single dish together (eww). Gail's debut middle grade novel, My Fate According to the Butterfly, will be released on July 30, 2019 by Scholastic Press.