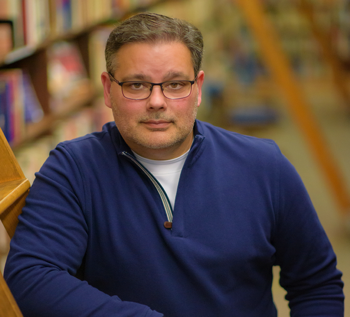 Todd Hosea
Todd Hosea (pronounced Ho-sea) loves science fiction and technothrillers. He grew up an avid fan of Star Wars and Star Trek, consuming everything from the television shows and movies to books and comics. Both franchises captured his imagination, but it was as a teenager that Todd discovered the works of Tom Clancy and Michael Crichton. Both authors were major influences as Todd delved deeper into this new genre and became hooked on military and science-related stories with nail-biting suspense and non-stop action.
Drawing from his own military experience serving at NORAD and Air Force Space Command headquarters in Colorado Springs, Todd published his first novel, STEAL THE REAPER, in October 2020. This modern day, sci-fi/action thriller combined his favorite genres to create heart-pumping page turner that grabs the reader from page one and doesn't let go until the end. He lives in southern Indiana with his family and their rescue dog, Lilly, where he is hard at work on the second book in The Reaper Series. Due out in December 2022, HUNT THE REAPER picks up where the first book left off as Captain Ava Tan and her crew embark on an epic adventure as the galaxy's most wanted.
You can learn more about Todd and his upcoming projects on his website: www.toddhosea.com.
Book Title(s):
Steal the Reaper (Grandizer, 2020)
Hunt the Reaper (Grandizer, 2022)
Award(s) and Accolade(s):
Quarterfinalist – 2021 Self-Published Science Fiction Competition
This is an excellent science-fiction meets space-age thriller that keeps you guessing until the end. It is relevant to current global conflicts and mysteries without getting political in its story line. I loved the way the story builds in each chapter and develops the characters well along the way. A must read! Combines, science, espionage, and the extra terrestrial and compels the reader to finish to the end!
Steal the Reaper is a mega-page turner with Blockbuster movie potential. The book's protagonist, Ava Tan, empowers Asian American women readers, offering a valuable reading experience in the wake of the 2021 Atlanta spa shootings. This page turner inspires all readers, while providing a welcome antidote to the collective paranoia, self-doubt, and confusion that anti-Asian pandemic rhetoric has generated. Ultimately, Todd Hosea proves through his action-packed storylines that Asian American women can kick ass beautifully.
Todd, WOW, your military experience coupled with your imagination and love of sci-fi action thrillers entertained me throughout the entire book – a real page turner. One of the best novels I've read in some time. I can't wait for your "Hunt the Reaper" sequel.
Age Categories:
New Adult
Genres:
Science Fiction, Thriller , Technothriller
Publicity Information:
grandizerllc@gmail.com