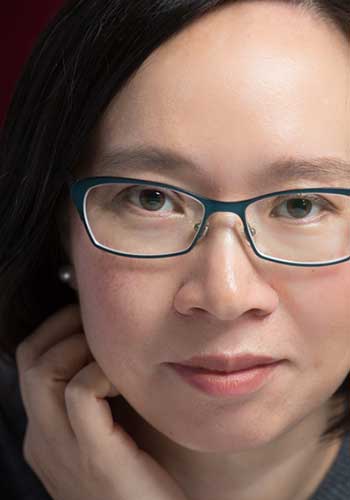 Malinda Lo
Malinda Lo is the critically acclaimed author of several young adult novels, including most recently the psychological thriller A Line in the Dark, which was a Kirkus Best YA Book of 2017 and one of Vulture's 10 Best YA Books of 2017. Malinda's first novel, Ash, a lesbian retelling of Cinderella, was a finalist for the William C. Morris YA Debut Award, the Andre Norton Award for YA Science Fiction and Fantasy, the Mythopoeic Fantasy Award, and the Lambda Literary Award for Children's/Young Adult, and was a Kirkus 2009 Best Book for Children and Teens.
She has been a three-time finalist for the Lambda Literary Award, and her novels have been selected for many best-of lists, including the American Library Association's Best Fiction for Young Adults, the ALA's Rainbow List, Bank Street College's Best Children's Books, the Amelia Bloomer Project List, the Locus Recommended Reading List, and the James Tiptree Jr. Longlist. Malinda's short fiction and nonfiction has been published by The New York Times, Autostraddle, Foreshadow, The New York Times Book Review, NPR, The Toast, The Horn Book, and multiple anthologies.
Before she became a novelist, Malinda was an economics major, an editorial assistant, a graduate student, and an entertainment reporter. She was awarded the 2006 Sarah Pettit Memorial Award for Excellence in LGBT Journalism by the National Lesbian & Gay Journalists Association for her work at AfterEllen. She is a graduate of Wellesley College and has master's degrees from Harvard and Stanford Universities. She lives in Massachusetts.
Award(s) and Accolade(s):
awarded the 2006 Sarah Pettit Memorial Award for Excellence in LGBT Journalism by the National Lesbian & Gay Journalists Association for her work at AfterEllen
finalist for the William C. Morris YA Debut Award
Finalist the Andre Norton Award for YA Science Fiction and Fantasy
Finalist the Mythopoeic Fantasy Award
Kirkus Best Book for Children and Teens
She has been a three-time finalist for the Lambda Literary Award
Other Creative Work(s):
Malinda's nonfiction has been published by The New York Times Book Review, NPR, The Huffington Post, The Toast, The Horn Book
Age Categories:
Young Adult
Publicity Information:
https://www.malindalo.com/contact