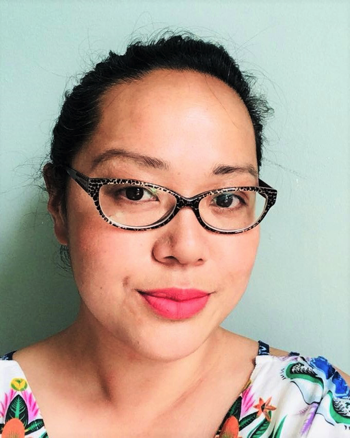 Maisie Chan
Maisie Chan is children's author. Her debut novel Danny Chung Does Not Do Maths is going to be published June 2021 with Piccadilly Press (Bonnier U.K) and as Danny Chung Sums It Up with Abrams Kids (U.S) in the fall of 2021. She has written early readers (Hachette and Collins) and had short stories published in various books such Ladybird Tales of Superheroes (Penguin) and Stories From Around the World (Scholastic). She started the group Bubble Tea Writers to support and encourage new British East and Southeast Asian writers in the UK.
She enjoys writing cross-cultural tales that often feature generational misunderstandings; this is due to her background as a transracial adoptee and her experience caring for her elderly parents. She has a Masters in American Film and Literature and has an interest in race and representation.
She currently lives in Glasgow and is interested in writing for screen. 
Book Title(s):
Danny Chung Does Not Do Maths (Piccadilly Press, 2021)
Danny Chung Sums It Up (Abrams, 2021)
Amy Wants a Pet  (Rising Stars/Hachette, 2020 )
Stories From Around the World (Scholastic, 2020)
Mulan n Ladybird Book of Superheroes (Penguin 2019)
The Big Think Stories  (Human Values Foundation 2019)
The Crew: HOT OR NOT? (Franklin Watts/Hachette, 2009)
The Crew: DAY OF THE DOG (Franklin Watts/Hachette, 2009)
Age Categories:
Chapter Book, Graphic Novel, Middle Grade, Picture Book, Young Adult
Genres:
Contemporary, Fantasy, Non-Fiction
Publicity Information:
molly.holt@bonnierbooks.co.uk