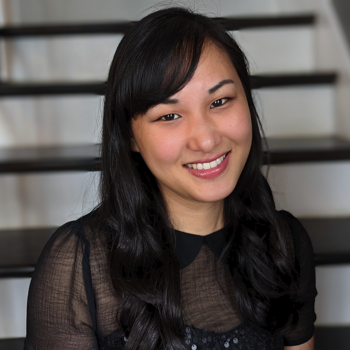 Kat Cho
Kat Cho (she/her) is a New York Times and international bestselling author of Young Adult fiction. She loves to incorporate her Korean heritage in her writing, especially if it involves describing food. She likes anything that encourages nerding out, including reading, K-dramas, K-pop and anime. She received her BA in Biology from Wesleyan University and MPH in Community Education from CUNY Hunter in her past life as a clinical researcher. She advocates for equity and representation in publishing and media through her work with Diverse Voices Inc., the non-profit behind DVPit and DVCon. As well as featuring diverse creators on her previous publishing podcast Write or Die.
Kat and her books have been featured in Entertainment Weekly, NBC, Refinery 29, and Seventeen. Her books include the Penguin One World One Book 2019 Selection, Wicked Fox, its international bestselling sequel, Vicious Spirits, and the New York Times Bestselling Once Upon a K-Prom.
Find her at: KatChoWrites.com | Instagram @KatChoWrites | TikTok @KatChoWrites | Twitter @KatCho | Youtube
Award(s) and Accolade(s):
A 2019 Junior Library Guild Selection (Wicked Fox)
An Entertainment Weekly Summer Best Book Pick (2019)
A Refinery29 Summer Best Book Pick (2019)
2019 Penguin One World One Book Selection
A YALSA 2020 Amazing Audiobook Selection (Wicked Fox)
A 2020 Junior Library Guild Selection (Vicious Spirits)
Straits Times Bestsellers List (Vicious Spirits, 2020)
2020 Amazon Editors' Pick Best Young Adult (Wicked Fox)
2020 Amazon Teachers' Pick (Vicious Spirits)
New York Times Bestseller (Once Upon a K-Prom, 2022)
A Boston Public Library Best YA Book of 2022 (Once Upon a K-Prom)
Other Creative Work(s):
Free Hexel (Webcomic) A high school band finds their new lead singer when they free a magical, musically-powered girl named Hexel from an interdimensional portal.
Write or Die Podcast (Podcast, co-host) a podcast that aims to share the real stories about what it takes to become an author – the gritty, infuriating, pull your hair out because it's been years – stories of writers who didn't give up despite it all, and are now living out their dream.
Diverse Voices, Inc (Non-Profit, Vice President, Director) DiverseVoices, Inc. was established to empower and advocate for minority, underrepresented and other marginalized groups of writers, illustrators and other book creators.
DivBookFest (Book Festival, co-founder) A kidlit book festival in Chicago centering the stories and voices of diverse creators! A day filled with fun panels with some of your favorite middle grade and young adult authors!
Identity:
Korean, Korean-American, LGBTQ+, Neurodivergent
Age Categories:
Young Adult
Genres:
Contemporary, Fantasy, Romance
Publicity Information:
Beth Phelan, agent (beth@galltzacker.com)