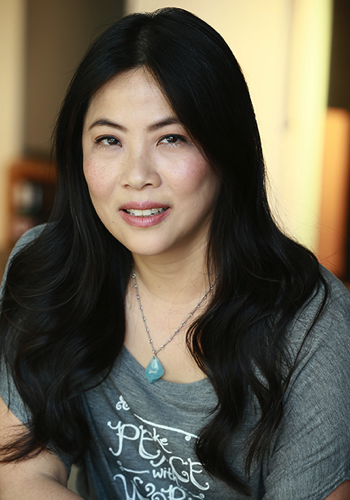 Karen Yin
An American writer of Chinese descent, Karen Yin is the author of the picture books WHOLE WHALE (Barefoot Books, 2021), SO NOT GHOUL (Page Street Kids, 2022), DOUG THE PUG AND THE KINDNESS CREW (Scholastic, 2022); the short story "My Kinda Sorta Badass Move" (BRIDGES AND ISLANDS young-adult anthology, Inkyard Press, 2023); and the upcoming nonfiction book CONSCIOUS LANGUAGE (Little, Brown Spark).
Acclaim for her writing includes a 2021 California Arts Council Individual Artist Fellowship, a 2020 SCBWI/Smithsonian Nonfiction Grant, selection of her flash fiction by the Los Angeles Public Library for its permanent collection in 2020, a 2015 Lambda Literary Fellowship, and a 2014 Table 4 Writers Foundation grant.
After Karen founded Conscious Style Guide and The Conscious Language Newsletter to spread mindful language, she won the ACES Robinson Prize in 2017 for furthering the craft of professional editing. Conscious Style Guide was named by Poynter as one of the top tools for journalists in 2018 and is recommended by Poets & Writers, Science Fiction & Fantasy Writers of America, Society of Children's Book Writers and Illustrators, and countless others, including NASA. She also founded the Editors of Color Database and the Database of Diverse Databases.
A member of the Authors Guild, the Dramatists Guild, and SCBWI, Karen is represented by Red Fox Literary for children's books and DeFiore and Company for other literature. Find her online at KarenYin.com and her book recommendations at DiversePictureBooks.com.
Book Title(s):
Whole Whale (Barefoot Books, 2021)
So Not Ghoul (Page Street Kids, 2022)
Doug the Pug and the Kindness Crew (Scholastic, 2022)
Conscious Language (Little, Brown Spark; date TBA)
Award(s) and Accolade(s):
$10,000 Individual Artist Fellowship Grant (2021) | 

California Arts Council

New Voices in Nonfiction Grant for the SCBWI/Smithsonian Institution Nonfiction Workshop (2020) | SCBWI

Selection of flash fiction for L.A. Public Library's permanent collection and Short Story Portal

12 x 12 Diversity Scholarship (2020) | 12 x 12

Eight-Time Golden Ticket Winner (record holder) | The Craft and Business of Writing Children's Picture Books (2019) | The Children's Book Academy

Robinson Prize (2017) | ACES: The Society for Editing

Tending Space Fellowship (2017) | Hemera Foundation

Official Selection (2017) for Friend Request | Stockholm Independent Film Festival

Rafael Lopez and Pat Cummings Merit Scholarship (2016) | The Children's Book Academy

Writers Retreat for Emerging LGBTQ Voices Fellowship (2015 and 2016) | Lambda Literary Foundation

$2,500 Writing Grant (2014) | Table 4 Writers Foundation

Flash Fiction Challenge (2014) | first runner-up | NYC Midnight

Best Comedy for Wait for It (2013) | semifinalist | Screenplay Festival
Identity:
agender, Chinese American, LGBTQ+
Age Categories:
Graphic Novel, Middle Grade, Picture Book, Young Adult
Genres:
Contemporary, Fantasy, Historical, Horror, Science Fiction, Speculative
Publicity Information:
consult@karenyin.com