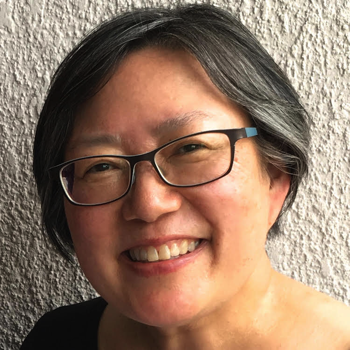 Janet Wong
Janet Wong, an author of Chinese and Korean descent, is a graduate of Yale Law School and a former lawyer who switched careers to write books for children. Her dramatic career change has been featured on The Oprah Winfrey Show, CNN's Paula Zahn Show, and Radical Sabbatical. Her 35 titles for children and teens span a wide variety of subjects, including writing and revision (You Have to Write), community and inclusion (Apple Pie 4th of July), peer pressure (Me and Rolly Maloo), chess (Alex and the Wednesday Chess Club), identity (A Suitcase of Seaweed & More), and yoga (Twist: Yoga Poems). A frequent featured speaker at literacy conferences, Wong has served as a member of several national committees, including the NCTE Poetry Committee and the ILA Notable Books for a Global Society committee. Her current focus is finding ways for teachers to incorporate movement into their daily teaching. You can learn more about her work at janetwong.com and pomelobooks.com. 
Book Title(s):
ALEX AND THE WEDNESDAY CHESS CLUB (Simon & Schuster, 2004)
A SUITCASE OF SEAWEED & MORE (Pomelo Books, 2019)
KNOCK ON WOOD: POEMS ABOUT SUPERSTITIONS (Simon & Schuster, 2013)
ME AND ROLLY MALOO (Charlesbridge, 2010)
MINN AND JAKE (FSG, 2008)
TWIST: YOGA POEMS (Simon & Schuster, 2007)
Award(s) and Accolade(s):
Asian Pacific American Librarians Association – Children's Book Award
Claremont Stone Center – Recognition of Merit
International Literacy Association – Celebrate Literacy Award
Penn State University – Lee Bennett Hopkins Award Honor
Featured in annual Best Books, Notable Books, and other award lists of the American Library Association (YALSA), Bank Street College, L.A. Times, N.Y. Times, and ILA Notable Books for a Global Society.
2021 NCTE Award for Excellence in Poetry for Children
Identity:
Chinese, Korean
Age Categories:
Chapter Book, Middle Grade, Picture Book, Young Adult
Genres:
Contemporary , Poetry