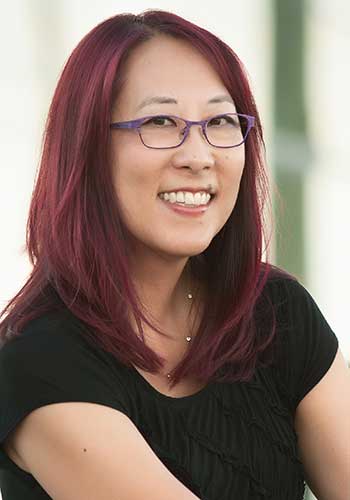 Debbi Michiko Florence
Debbi Michiko Florence's debut middle grade novel is Keep It Together, Keiko Carter (Scholastic/2020), a story about friendships and first crushes (and chocolate). She is also the author of the Jasmine Toguchi chapter book series. Her forthcoming books include middle grade novel Just Be Cool, Jenna Sakai (Scholastic/2021) and a co-authored picture book biography Niki Nakayama: A Chef's Tale in 13 Bites (FSG/2021).
A third-generation Japanese American, Debbi was born in San Francisco and raised in Los Angeles, and has very fond memories of spending childhood summers in Japan. Receiving her zoology degree with an English minor from UC Davis and her teaching certificate from Cal State University Northridge, she is a former raptor rehabilitator, outdoor educator, Associate Curator of Education at a zoo, and has owned many pets. Debbi loves doing author visits at schools and libraries. She has also spoken on panels at conferences and book festivals and taught writing workshops for children and adults.
Debbi has lived in CA, MI, MA, NY, Mexico City, and Shanghai. Today, she writes in her studio, The Word Nest, in Connecticut with her rescue dog and rabbit by her side. She loves to travel with her husband and daughter, and one of her favorite places to visit is Japan. Debbi loves mochi, sushi, passion fruit bubble tea, and chocolate.
Book Title(s):
Keep It Together, Keiko Carter (Scholastic, 2020)
Jasmine Toguchi Mochi Queen (FSG, 2017)
Jasmine Toguchi Super Sleuth (FSG, 2017), Jasmine Toguchi Drummer Girl (FSG, 2018)
Jasmine Toguchi Flamingo Keeper (FSG, 2018)
Just Be Cool, Jenna Sakai (Scholastic, 2021)
Niki Nakayama: A Chef's Tale in 13 Bites (co-author) (FSG, 2021)
Award(s) and Accolade(s):
A Junior Library Guild Selection
An Amazon's Best Children's Book
A Chicago Public Library's Best of the Best Books
A Nerdy Book Club Award Winner
Bank Street Best Children's Books of the Year
Amelia Bloomer List
CBCC Choices List
Beverly Cleary Children's Choice Award nominee
Nutmeg Book Award nominee
Cybils Award Winner
Maryland Blue Crab Young Reader Award Winner for Transitional Fiction
A 2020 New England Book Award finalist (NEIBA)
Identity:
Japanese-American
Age Categories:
Chapter Book, Middle Grade, Picture Book
Genres:
Contemporary , biography
Publicity Information:
author@debbimichikoflorence.com